The 36-year-old music business mogul stated his position on marriage, after a fellow colleague in the music industry came at him, following a post shared on his official Instagram page.
In the IG post, Don Jazzy had asked his fans and followers to let him know what he could possibly do for them.
Responding to this question, the official DJ of his record label, DJ Big N wrote, "The Don can find a wife for himself, since I have given up doing so for him"
Don Jazzy on the other hand was quick to shut his colleague down as he categorically expressed that no one can force him to get married.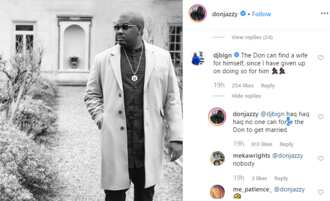 News Source: http://legit.ng
Last edited by crisbar96 (3rd Aug 2019 03:40 pm)