In a trending video in the online community, Governor Abdulrahan Abdulrazaq of Kwara State was filmed on camera by an onlooker as he patiently waited for his turn with other passengers who were about to board a commercial flight.
Although as random as his actions may appear, it is quite unusual for someone in a high position of power like the governor, to be seen in such circumstances. This is usually because of safety and security reasons as well as the fact that there always pressing issues that need the timely response of political office leaders.
Publishing guru, Dele Momodu, who appeared to be taken by the humility of the governor, reposted the video on his page.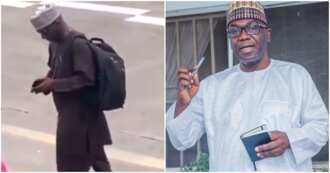 Source >> https://legit.ng