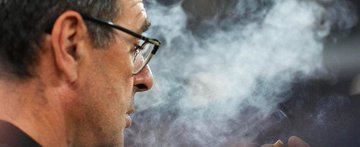 Maurizio Sarri, the Italian coach was in charge of Premier League team, Chelsea, and in just one term, he helped the Blues to win the Europa League title and qualified them for Champions League.
But during his reign at Chelsea, Premier League fans and pundits saw Maurizio Sarri's love for smoking cigarettes.
Sarri never started smoking at Chelsea as the 60-year-old was used to cigarette while coaching Italian club Napoli.
It was reported last season that Chelsea chiefs were forced to give Maurizio Sarria special smoking room at the training ground.
"I smoke 60 a day, which is probably a few too many.
"I don't particularly feel the need to smoke during games, but straight afterwards it really is necessary. I had back problems tormenting me for weeks, but I feel much better now," Sarri said according to Football Italia and reported by Givemesport.
So taking 60 cigarettes a day means Sarri consumes 420 every week, 1,825 every month, 21,900 every year.
Source: Culled from https://www.legit.ng