The moment Senator Melaye greeted the president was captured in a photograph which has seen gone viral on social media, particularly Twitter.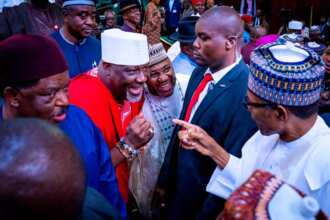 In the photograph, Melaye is seen smiling and greeting the president while the president in turn, pointed at him.
What makes the photograph special?
Senator Melaye who represents Kogi West on the platform of the Peoples Democratic Party (PDP) is a staunch critic of President Buhari.
Giving the harshness and the consistency of his criticisms of the federal government, the last thing Nigerians would expect is smiling and exchanging warm greetings with the president.
Source: https://www.legit.ng